Why Buy At Honda of Tenafly?
Easy, price-protected, satisfaction guaranteed buying exclusively from Honda of Tenafly
"Welcome To Your Comfort Zone"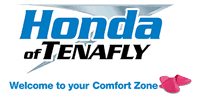 Certified Pre-Owned Vehicles
Pre-Owned Vehicles in stock
15+
Vehicle Brands to choose from
New Vehicles
Honda of Tenafly
Our Reviews
Ask for Ansoni Romo, he's an excellent salesperson, very knowledgeable , friendly and patient. I appreciate the low key approach at this dealership, no pressure.
Here was so kind and nice place ever. I'm happy to start with a good memory at Tenafly, New Jersey. If I buy Honda again, I'll live here again.
Thanks for spending time to go over different options, Arnold helped me to decide the options I needed. Thanks for being patient with me. You gave me enough time to decide which one I needed. Thanks.
Howard was a great salesperson! He was helpful throughout the entire process and made this experience a pleasant one! He has great customer service skills and it was a pleasure doing business with him! Thanks!
Arnold Bang was pleasent and made it easy great experience! Can see why the place was so busy with so many customers! Look forward to their service
Excellent! Friendly n supportive services Very smith process Drive back home with my new car in 2hrs Thank you all staffs of Honda you guys r the vest!!!
Service was friendly professional and very helpful we were quite happy and pleased would recommend others to Honda dealership looking forward to leasing an electric car next
We have now purchased 3 cars from Arnold, and have nothing but good things to say. Arnold makes it easy and fun! He is very straightforward and honest. Highly recommended.
I worked with Ronnie Manuel. He used to be at metro honda but now at tenafly. I still take the travel just to work with him! He is great!!! Since 2015 I havnt gone to anyone new!
AnnaMarie was extremely knowledgeable and accommodating of my needs throughout the process of my purchase. The process was easy and painless! I would definitely recommend this dealership in the future
They are very professional, helpful and nice. I like taking my car to them.
Scheduled repair took place on time with accurate: estimates of cost and time to repair. All representatives were courteous and efficient.
Mr. Rosario is knowledgeable and very good at what he does. He is an asset to the dealership he works for. The process was smooth. Thanks for your help.
Great team, very friendly and made the transaction extremely smooth. Very knowledgeable, answered all our questions and also gave us advice on several indecisions we had.
Arnold was very caring and understanding, best sales representative. Would definitely recommend to others. He is very kind and patient. Honda is very lucky to have such a good sales rep.
Great customer service would definitely recommend to other people.
Very friendly staff, they helped with all my car needs! Highly recommend!
Mr. Romo is outstanding among all the car salesman we have met so far. The entire process was so smooth and his help is great.
Ruth was very friendly and very patient with my decision making. I would say they provided great customer service! I really liked the fact that I wasn't rushed into making a decision, they even stood a bit later than their business hours.
The overall experience was great! The staff was extremely friendly and helpful in guiding my wife and I with our decision. I highly recommend Honda of Tenafly
Purchased our 1st car today. Daniel, Monica, Michelle, Ronnie and Roy are very easy to deal with and professional, customer service was great and didn't feel pressured to buy the car right away. They all answered our questions whether we contacted them via phone, email and in-person. I would highly recommend doing business with Honda of Tenafly. Keep up the good work. Great team to do business with.
Hee Chung is the best, kind, patient, and will get what you need. thank you!. The place i can't complaint but The music too loud, is difficult to communicate. But overall nice place.
I came to Honda Tenafly not too sure what was going to happen. I was a bit skeptical at first, I received a call about a week before finally telling myself "what's the worse that can happen?" Let's just check it out and see what they have to offer. Our salesman Herbie was Awesome, no like literally I'd recommend him anytime. They're were a couple of bumps in the beginning which got pretty frustrating for me and honestly I just wanted to give up. Herbie did not. Just to mind everyone I went in there looking at a 2019 Honda Pilot, my wife and I took it out for a test drive we both loved it. I went in looking to trade in my 2008 Honda pilot. I ended up walking out with a brand new 2021 Honda Pilot EX !!! Even though the process took a little bit longer it was all worth the wait! Herbie asked what is it I'm looking for I told him exactly what I wanted and he made my dream come true with something better. I wasn't expecting to go home same day with my brand new vehicle which I am absolutely INLOVE with (besides my wife) 😂🤦‍♀️ the environment was welcoming, the staff were great and kid friendly. The music was a vibe, everything was a phenomenal experience. Our little man enjoyed himself at they're barbecue which in fact they kept him busy hiring him to hand out sodas after he devoured like 3 cheese burgers and a hotdog and even made a little friend during the whole thing including a few others but Daniel was his favorite he also works there lol. He still keeps asking "Mom when are we going back? I got a job now" LOL 3 days later here I am writing this review while sitting in my new 2021 Pilot. I did not have to put no money down, he made sure I got a good deal that I can work with around my budget which made it even better no regrets. My car is smooth beautiful and I feel freaking great. I am one person who is big on reviews and I wouldn't be on here saying the things I am saying if I didn't have something good to say. I saw many people driving off with they're new cars same day. I'm glad I chose Honda Tenafly no regrets what so ever THANK YOU HERBIE from the Santiago Martinez Family and thank you to everyone else who made our experience, especially for our little man enjoyable we are definitely coming back for some BBQ lol .... 🙏💯
Great sales person! My 2nd time buying a car from Herbie and he's always super helpful and always accommodating. Location extremely clean and professional!
Welcome to Honda of Tenafly
Come to the professionals at the first Honda dealer in New Jersey for award-winning Honda sales, service and financing. Our family-owned and operated Honda of Tenafly dealership has proudly served the community for more than 90 years, and we look forward to offering premier customer service for many more. Whether you're shopping for a new car, want to check out Honda specials or need to schedule repairs, you'll find our team goes above and beyond to ensure you're comfortable throughout your time with us. When we say "Welcome to Your Comfort Zone", we REALLY mean it!
Explore our inventory of new Honda cars, trucks, vans and SUVs available at our New Jersey Honda dealer to find the ideal vehicle for a great price. In addition to our extensive selection of new Honda Civic models and CR-V SUVs, we offer exclusive perks like price protection and one year of complimentary maintenance. Whether you're financing a new Honda Accord or signing a new Pilot lease offer, you'll also be able to enjoy a 48-hour Drive & Decide™ money-back guarantee. View our selection of used Honda vehicles and ask about our new Honda specials if you're looking to save. Once you're ready, speak with our Honda finance experts to iron out the new Honda lease or purchasing option that's right for you!
To get professional auto repairs you can trust, bring your vehicle to the Honda of Tenafly service center. From quick oil changes and tire rotations to more serious Honda service, our team can get you right back on the road. Schedule Honda service online and view our Honda service specials to book an appointment and see how much you can save on car maintenance. And if you're shopping for genuine Honda parts, you can place an order online to get all the Civic accessories, CR-V parts or other components you need.
Visit the Honda of Tenafly family today at 28 County Road in Tenafly, NJ. We're just a quick ride away from Teaneck, Bergenfield, and Greater NYC. We look forward to helping you any way we can!
Get Directions To Honda of Tenafly